Indian economy is braving the deadly Covid-19 pandemic – as per an important indicator of revenue collection under the Goods and Services Tax. The GST, which is a consumption tax, went up to Rs 1.05 lakh crore during October,2020, logging in an increase of 10 per cent over the amount in the same month of 2019.
The Nikkei Manufacturing Purchasing Managers' Index (PMI) , another widely tracked indicator for economic performance, too showed a sharp expansion of factory output during October this year. The IHS Markit-compiled index went up to 58.9 in October from 56.8 in September. This was the highest since May,2010.
After a sharp contraction of 23.9 per cent in the Gross Domestic Product during the first quarter (April-June) of the financial year 2020-21, the performance metrics of Asia's third largest economy are looking up, with almost all , but few , sectors, having been unlocked. India had imposed the world's severest lockdown in March, causing a huge disruption to the economy.
As for the GST collection, of Rs 1.05 lakh crore in October, 2020, the Central GST was Rs 19,193 crore and the State GST Rs 24,411 crore. The Integrated GST for the month was Rs 52,540 crore.
.
"The revenues for the month are 10 per cent higher than the GST revenues in the same month last year. During the month, revenues from import of goods was 9 per cent higher and the revenues from domestic transaction (including import of services) are 11 per cent higher that the revenues from these sources during the same month last year. The growth in GST revenue (in October) as compared to that in months of July, August and September, 2020 of -14%, -8% and 5% respectively clearly shows the trajectory of recovery of the economy and, correspondingly, of the revenues", according to an official statement
The chart shows trends in monthly gross GST revenues during the current year. The table shows the state-wise figures of GST collected in each State during the month of October, 2020 as compared to October, 2019 and for the full year (In Rs crores).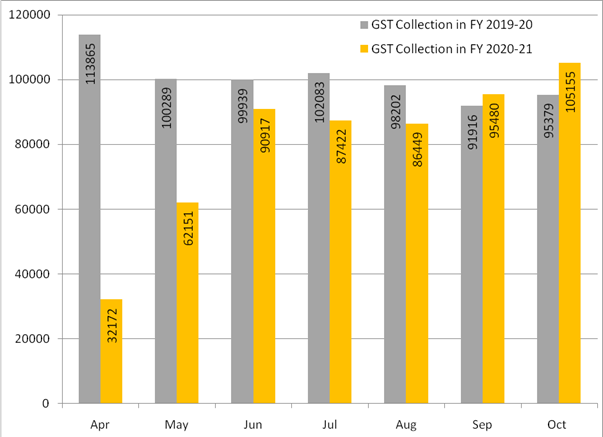 State-wise GST collection
| | | | |
| --- | --- | --- | --- |
| State | Oct-19 | Oct-20 | Growth |
| Jammu and Kashmir | 313 | 377 | 21% |
| Himachal Pradesh | 669 | 691 | 3% |
| Punjab | 1,189 | 1,376 | 16% |
| Chandigarh | 157 | 152 | -3% |
| Uttarakhand | 1,153 | 1,272 | 10% |
| Haryana | 4,578 | 5,433 | 19% |
| Delhi | 3,484 | 3,211 | -8% |
| Rajasthan | 2,425 | 2,966 | 22% |
| Uttar Pradesh | 5,103 | 5,471 | 7% |
| Bihar | 940 | 1,010 | 7% |
| Sikkim | 186 | 177 | -5% |
| Arunachal Pradesh | 41 | 98 | 138% |
| Nagaland | 25 | 30 | 20% |
| Manipur | 43 | 43 | 0% |
| Mizoram | 18 | 32 | 72% |
| Tripura | 54 | 57 | 5% |
| Meghalaya | 113 | 117 | 4% |
| Assam | 888 | 1,017 | 14% |
| West Bengal | 3,263 | 3,738 | 15% |
| Jharkhand | 1,437 | 1,771 | 23% |
| Odisha | 1,994 | 2,419 | 21% |
| Chattisgarh | 1,570 | 1,974 | 26% |
| Madhya Pradesh | 2,053 | 2,403 | 17% |
| Gujarat | 5,888 | 6,787 | 15% |
| Daman and Diu | 83 | 7 | -91% |
| Dadra and Nagar Haveli | 130 | 283 | 118% |
| Maharastra | 15,109 | 15,799 | 5% |
| Karnataka | 6,675 | 6,998 | 5% |
| Goa | 311 | 310 | 0% |
| Lakshadweep | 2 | 1 | -55% |
| Kerala | 1,549 | 1,665 | 7% |
| Tamil Nadu | 6,109 | 6,901 | 13% |
| Puducherry | 146 | 161 | 10% |
| Andaman and Nicobar Islands | 32 | 19 | -42% |
| Telangana | 3,230 | 3,383 | 5% |
| Andhra Pradesh | 1,975 | 2,480 | 26% |
| Ladakh | 0 | 15 | |
| Other Territory | 127 | 91 | -28% |
| Center Jurisdiction | 97 | 114 | 17% |
| Grand Total | 73,159 | 80,848 | 11% |
Source: Finance Ministry